AS
LILU
WOULD SAY:
***Alright, folks, you know the rules. Join us all in humiliating the crap out of yourself every Thursday by sharing some completely tasteless, wholly unclassy, "how many readers can I estrange THIS week??" TMI story about your life. Or hell, about someone else's!***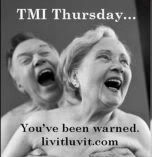 When I was 7 or 8 "you know a young dumbass"lol
I used to love riding my bike, I rode my bike everywhere! Well, when I got chance to take a 10 speed for a spin for the first time I took it. See, back in 1977 or 1978 10 speeds were just getting popular. Well I was aloud to take it about 5 houses up and was told to come back. It was a big bike, much bigger than me. I went up the 5 houses and tried to turn it around but was not able to make a successful turn and hit a porch stair very hard!!!! Oh, i forgot to mention that this was a men's 10 speed bike!!!! Ouch...yep, right where it counts!!!
My va-jay-jay swelled twice as big and turned all pretty colors on a still hairless body part. It hurt so bad, to walk to sit, to do anything.
Where does the embarrassing part come in? Thought you would never ask. Well while recovering I had some boys that were friends and I thought we had hidden ourselves well enough to show my "friend" what I had done to myself, you know all the pretty colors. I thought we were alone. Well turns out the neighbor lady looked out and saw me showing my business to this "friend that was a boy". I freaked out and ran home, I was so scared that the lady was going to come to the house and tell on me, that i thought i would beat her to it and told my father what i had done ( he was the only one home at the time). He gave me the usual lecture, don't do it again...etc. etc. etc. It happened 30 years ago...but i remember it like it was yesterday!
p.s. The neighbor never came over and told on me.